MK12093 RC212V MotoGP 2007 No.56 LONICA MINOLTA
Price : 19,000JPY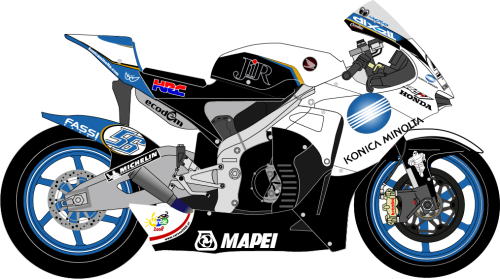 Late model.
The upper cowl is for satellites.
*** About this kit *** 

・ RC212V 2007 No56 KONICA MINOLTA

Plastic bike models are not included.


This kit is a personal-made work.
It is a kit for advanced users.
There are air bubbles. You need to fix it.
Please refer to the adequate provisional assembly
★ Bonus towards the purchase in e-MODULO ★
 However, there are conditions. It is not a benefit that all purchasers can get.
・Spare decal 1 sheet
*** contents *** 

Resin parts
Assembling instructions
Marking Guide
Rubber sheet for sheet pad &Pattern paper
Decal
Clear parts(Screen)

*** Decal *** 

The decal is MD printer printing decal and Color Laser Printerprinting deca.
Not silkscreen print.
*** Things necessary ***

TAMIYA HONDA RC211V '06 (Some of the parts in it)
TAMIYA KAWASAKI ZX-RR Caliper
TAMIYA M1 tire
*** Spare decal sheet ***

MK12093SP RC212V 2007 KONICA MINOLTA Spare decal sheet 2,200JPY